Tweet
A WONDERFUL BOOK OF FAITH AND DIVINE PROVIDENCE.
A MUST BUY AS ALL THE OTHERS ANTONIO SOCCI'S BOOKS.
LO STRANIERO The blog of Antonio Socci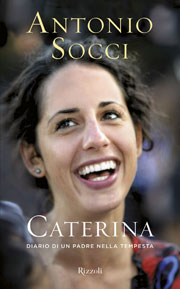 This is the text that appears in the inside back cover of the book:
"What do you prove a mother or a father in front of a daughter lying on a bed, motionless, powerless to wake her, we can not say.
The anguish and the fear of what might have limits and must immediately take refuge in the present and in imploration to our good Mother, who is all and loves us. "
September 2009, Catherine, twenty-four years, the eldest daughter of Antonio Socci, is in a coma after a cardiac arrest.
Around her and her family you create an extraordinary chain of solidarity and prayer, a show of faith and love offered by not only friends but also by the numerous readers of the blog of his father.
Among them are many atheists and agnostics, but the experience of Catherine drives these people to rediscover the meaning and value of prayer, to rediscover the meaning of a faith lost or left on the sidelines.
It is a great little miracle that this girl does unconsciously from her hospital bed: his suffering is translated into a message of light to the lives of many people who - in fact or in thought-the neighbors are.
But it is mainly the his parents and closest friends who, day after day, despite the hardness of the test to which they are subject, with even greater certainty rely on Jesus Christ.
Theirs is an act of faith that gets early signs of hope: Catherine's heart resumes beating on its own and no longer needs his breathing machine.
Shortly thereafter, on an evening in January 2010, while her mother is reading a fun step of Holden Caulfield, Catherine let go of a beautiful and contagious laugh.
From that day, a bit 'at a time, regains consciousness and takes an arduous journey of rehabilitation, though full of unknowns.
In his compelling book, Socci shows us that with faith (in the living presence of Jesus among us) and prayer we can find an extraordinary help to overcome the most dramatic moments of life.